Barstool Sports Bloggers Tryout for Soul
By CHRIS HOPKINS
The Philadelphia Soul's open tryout on February 15 marked the last time that coaches and player personnel officials could evaluate a pool of prospects for their 2014 training camp roster.
Two of the participants who showed up to the NovaCare Complex, were attempting to prove that an average, out-of-shape relatively un-athletic male could make a professional football team.
They failed.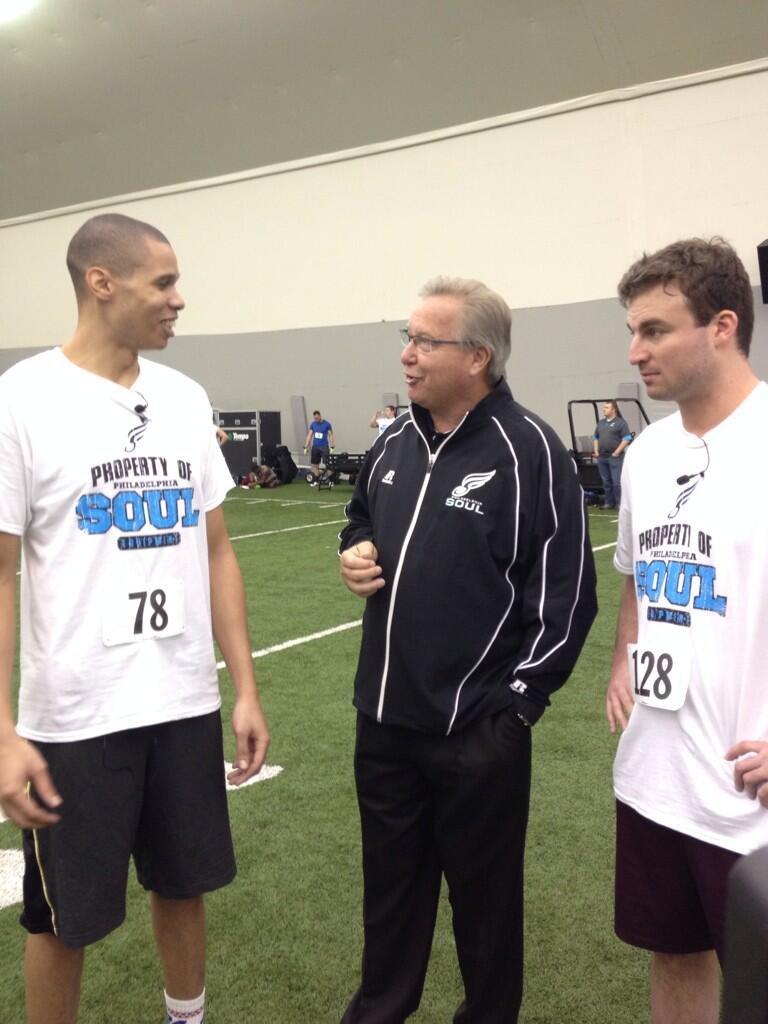 But, their effort was valiant. Barstool Sports bloggers Smitty and Maurice ("Mo"), lifelong Philadelphia sports fanatics, attempted to duplicate what Philly folk hero Vince Papale did in the 1970s when he participated in an open tryout for the Philadelphia Eagles and made the team.
Unfortunately for Smitty and Mo, Papale was a track star in college and played some semi-pro football. The two of them? …Not so much.
"I got into some very competitive, high-level freshman year high school football for about three weeks or so," Mo said. "After that it was a whole lot of nothing."
"[I] played some varsity D3 and was a wannabe superstar tight end," Smitty said.
The tryout started with some "light" stretching, which set the tone for the rest of the day.
"It was more of a workout than most of my workouts," Mo said.
After that, they interviewed with some coaches and players, then were tested in the 40-yard dash, cone drill, and broad jump.
Mo and Smitty were able to live out an Eagles fan's dream by spending some quality time with former Eagles quarterback and Soul majority owner Ron Jaworski.
"I got to high five Ron Jaworski THREE Times," Mo said. "How is that not the greatest day ever?"
"Jaws said I had heart," Smitty said. "Or at least that's what he said to make nice of my lack of obvious ability."
In a one-on-one with Jaws, Mo was hoping to make a lasting impression in case quarterback Dan Raudabaugh goes down.
"We had a solid one-on-one with Ron Jaworski where I got to show off my laser arm," Mo said. "Couldn't get him to say I had a 'pro caliber arm,' but he did say he was impressed with my deep ball."
Soul coach Clint Dolezel may not have been as enamored with Mo's skills.
"I don't think Coach Dolezel was too impressed by my 40-yard dash," Mo said. "Pretty sure he laughed at me."
By the end of the tryout, it was fairly obvious that Smitty and Mo would not be suiting up for the Soul anytime soon, as the only drill they received a passing grade on was the broad jump. Still, it was a positive experience for the pair and they now possess a newfound respect for what it takes to succeed in Arena Football.
"The tryout was exciting…and also extremely tiring," Mo said. "It takes a certain level of athlete to play in the AFL."
As for a prediction for the upcoming season…
"Just put me on the team under center and I can get them over the hump," Mo said.
"Time to grow up and win next year," Smitty said.
Spoken like true Philly sports fans.